JIM FALK MOTORS: Home of the $28.95 Fully Synthetic Oil Change!
ATTENTION: STOP OVER PAYING! FULLY SYNTHETIC OIL CHANGES RANGE ON AVERAGE FROM
$45-$70! NEVER OVER PAY AGAIN AND NEVER PAY MORE THAN $28.95 FOR A SYNTHEIC
OIL CHANGE HERE AT JIM FALK MOTORS!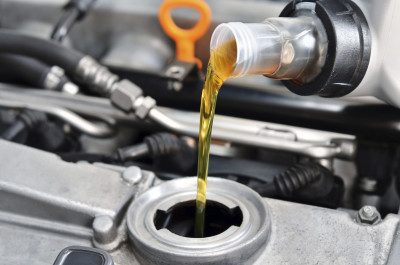 What's the difference between synthetic and conventional oil?
Conventional oil is a lubricant that is made directly from crude oil. It does an excellent job of keeping your engine oiled at high temperatures and can last up to 5,000 miles between changes. Synthetic oil meets this standard as well but is modified to help protect your engine, allow you to go farther between pit stops, and can even prolong the life of your vehicle's engine.
Most synthetic oils have additional lubricants in their mix to ensure that your engine is always protected from high temperatures over longer periods of time. Its high viscosity allows it to stick to the engine's parts rather than settling at the bottom and causing a 'dry start' which can be damaging to your vehicle. If you have ever taken a look at dirty oil, you'll notice debris or 'sludge' looking materials within the oil. Synthetic oil reduces the amount of break down that you find in conventional oil – keeping your engine cleaner, longer.
How often should you get your oil changed?
If you are using conventional oil, then you will probably find yourself making an oil change appointment every 3,000 miles. Synthetic oil, however, will allow you to spend less time in the service waiting room browsing through your phone since synthetic oil only needs to be changed about every 7,500 miles!
How do you keep your engine healthy?
Regardless of the suggested miles to every oil change, it's always a good idea to be proactive and check your oil routinely. When checking your oil at home, it's important to pay attention to the color of the oil. Clean and healthy oil should be a clear golden color. You'll know it's time for an oil change when your oil begins to look dark and has debris within it.
Is it time for an oil change?
Visit us at Jim Falk Motors. We are home of the $28.95 fully synthetic oil change! Visit us today or schedule your appointment online by clicking the button below. If you have any questions, feel free to give our service department a call at 888-672-0529. Don't forget to visit our Service Department to browse our coupons and save them directly to your smartphone!
Service Dept Hours
888-672-0529
| | |
| --- | --- |
| Monday | 7:30 am - 5:30 pm |
| Tuesday | 7:30 am - 5:30 pm |
| Wednesday | 7:30 am - 5:30 pm |
| Thursday | 7:30 am - 5:30 pm |
| Friday | 7:30 am - 5:30 pm |
| Saturday | 8:00 am - 2:00 pm |
| Sunday | Closed |